What are my options if I do not have much money or any money for a down payment?
Many home buyers believe the "old school" thought in that they must have 20 percent down to purchase a home. What they do not know is that there are several different loan programs that do not require a down payment. If buyers are not eligible for those programs there are several different down payment assistance programs as well.
Military Veterans – Many military members qualify for a VA loan. The VA loan does not require a down payment and the borrower does not have a monthly mortgage insurance payment (PMI). The VA loan does require the borrower to pay a funding fee which is normally added on to the purchase price. The amount of the funding fee depends on the military members status (Active or Reserves/Guard) and if it is the borrowers first time getting a VA loan. Military members who are getting disability payments from the VA may not have to pay a funding fee at all. The fee fluctuates between 1.5-2.15 percent. Military members also qualify for the Homes for Heroes Program which gives discounts to Heroes when they buy or sell a home.
USDA Loans – I recently read an article that referred to USDA loans as loans for farmers. This is not correct! U.S. Department of Agriculture (USDA) loans are similar to a VA loan in that they do not require a down payment and require one time fees that range between 2-3 percent of the loan amount. Where USDA gets the reputation that it is a "farmers" loan is because the loan is for rural areas. In Dane County municipalities such as Waunakee, Deforest, Cottage Grove, McFarland, Oregon, Verona, Mount Horeb, and Cross Plains are considered to be "rural" according to the USDA. A complete map is below.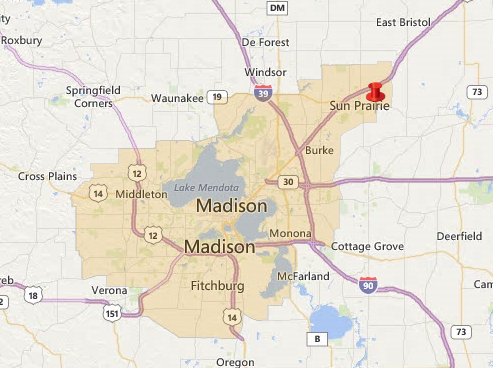 Down Payment Assistance – There are several down payment assistance programs that can help buyers if they do not qualify a VA or USDA loan. These down payment assistance programs may be combined with FHA loans which require down payments to be as little as around 3.5 percent. The down payment assistance programs can be a little complex, so I leave to it to the mortgage experts to explain the different programs available and how much assistance can be provided.
For more information feel free to contact us or one of our Preferred Lenders for more information or contact us.