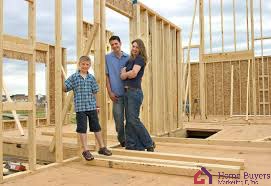 You can now get up to $5,000 in FREE upgrades when you build your New Home! The Reuter Team will represent you as you go through the building process and give you up to $5,000 towards upgrades in your new home.
Building your dream home from the ground up can be exciting. You get to choose your lot, the floor plan, the exterior design, the interior finishes and any upgrades. But it's a common misconception when you're buying a new constructed home that you don't need to work with a Realtor®. However, that's not necessarily true. Below are some good reasons why it makes sense to have a real estate agent represent you when building your new home.
1. The sales agent works for the builder. When you walk into a model home, the friendly salesperson who greets you is employed by the builder. According to John Reuter of The Reuter Team, "That is not necessarily a bad thing, but in the end, they're trying to generate sales for their boss – the builder and they may not always have interests in mind."
2. We are your advocates. We are obligated to work toward your best interest 100% of the time. "When represent you, we are always looking out for you and families best interests," says Reuter, who has been in the Top 10 percent of Realtor's for three consecutive years in a row. "As a Realtor, we are going to look out for you and let you know what your rights are during the before, during, and after the building process."

"We can also give you perspective on things that may affect future resale as well."
3. Hiring a Realtor comes at no cost to you. When working with builders, there is no additional cost for working with a Realtor. The builder will pay your agent's sales commission.
4. An agent can help you choose the right builder and neighborhood. "An experienced realtor can show you what the neighborhood values are currently for resale, which will help give you perspective when it comes to building your house, so you're not necessarily over-building for the neighborhood – at least, not without knowing that you're doing so," says Reuter.
5. A Realtor can help you make the right choices for your budget. "New construction can be overwhelming, because there are an endless number of choices to select," says Reuter. "It is really easy to want to buy a million dollar house, but you only have a $400,000 budget. A good Realtor can help guide some of your decisions within your budget. And they can help make sure that your budget is in line with what you're trying to accomplish."
6. An agent can help with lot, floor plan and upgrade selections. A Realtor can help guide you by making recommendations on items that appeal to a larger number of future buyers, if you think you may sell your property in the future, says Reuter. For example, the lot you may be thinking about buying may save you some money upfront, but it may not be the best lot selection when it comes to resale value.

Also, when working within your budget, an agent can guide you on what items are better to install now versus items that are easier to improve upon later, such as a basement versus a bonus room or 2-foot bump-outs versus upgraded flooring.

Additionally, "as you're walking through the model home, most Realtors will ask the sales agent to point what the base price of the home is, what upgrades are included in the model home, and what the current price of the model is with the upgrades," says Reuter. "It helps you put what you're looking at into perspective and what the cost truly is."
7. A Realtor will be aware of builder promotions and may be able to help you help negotiate a better price and terms. Negotiating price with builders in our current market is tough because of demand especially if it is new construction versus a spec home. Their are still a lot of builders that are offering upgrade packages and incentives. A builder may advertise an 'upgrade' or discount on something like counters, trim, doors, etc. that may be in a different builders standard package. Plus, The Reuter Team will give you $5,000 towards upgrades, selections, or closing costs with ANY builder!
8. An agent will guide you through the building process, if needed. We will also be available to attend meetings with the builder, selection appointments, the walk- through, and any other meetings if you would like.

Also, "prior to closing, we will make sure you have all the information you need. Because it can sometimes be more difficult to get things accomplished after closing than prior to closing," says Reuter. "We can be a communicator to make sure you have all the "I's" dotted and the "T's crossed."
9. We help with your lender selection. "Sometimes, builders have relationships with certain lenders," says Reuter. "Builders offer some incentives so you will work with that lender. But it's always a good idea to talk with another preferred lender to make sure what you think you're getting, you are in fact receiving. At the end of day, you need to compare apples to apples. And the incentive is not always the best option in all cases."
As you can see, hiring The Reuter Team to represent you when purchasing a brand-new home provi
If you're interested in purchasing a new construction home in the Dane County area, contact John Reuter at 608-669-4226 or email john@thereuterteam.com. John provides a no cost, no obligation buyer seminar and/or marketing analysis. "We really love what we do, and we love helping families make their dreams come true and building relationships that last forever."
-